How SmartLabel Aims To Change The Music Industry
An interview with the co-founders Jonathan Oudekerk and Joost Rohde.
Joost & Jonathan

Paving the way for an artist first approach within the music industry, the co-founders behind SmartLabel, Jonathan Oudekerk and Joost Rohde, originally came together with the aim of helping independent musicians better manage their careers.

Those two combined their experience, which spans the fields of IT, technology, music, IP rights and more, to launch a platform that offers several services devised to help musicians get their music out into the industry under their own terms.

Offering multiple options on how to do so, from NFTs and distribution, those two share the vision behind SmartLabel, how the platform came to be and what impact they hope the platform has on the industry.
"I was born and raised in the entertainment industry, my father was involved in the music industry, so I've seen everything first hand," - Jonathan Oudekerk
...explains Jonathan Oudekerk, co-founder and business development executive at SmartLabel. "Growing up, I noticed that many artists did not sort out their business affairs which impacted their music careers. Many gravitated towards playing live gigs to get paid for their music, but they failed to organise the additional contracts or paperwork needed for wider distribution." This caught Jonathan's attention, and he began researching how he could help these musicians better understand what they needed to do to succeed independently. While studying at the School of Audio Engineering SAE in Amsterdam, the Netherlands, he developed a deeper grasp of the ins and outs of the music industry. At the time, he immersed himself in learning everything he could about copyright, master rights and broader distribution rights for artists.
Gap in the market
While Jonathan was thinking of how he could use his newly gained knowledge for the benefit of musicians and artists, his soon-to-be business partner Joost was busy managing the career of Sexton Creeps, an international musical project from the underground art scene in Groningen, the Netherlands. Like Jonathan, Joost grew up surrounded by music, learning the ins and outs of the music business. After working within the IT industry for more than 20 years, mainly focusing on open source software and programming applications, he decided to take a left turn with his career and become more involved in the music industry. "Working as the manager for the Sexton Creeps was my first real encounter in the music industry," he recalls. "I was in charge of everything regarding the band's operations, from music rights to live performances, venue bookings and publicity - basically everything that comes with running a band." Working with them allowed Joost to see how the music industry operated in the Netherlands and Europe. The Sexton Creeps had a very interesting set-up because they co-created many different tracks with several different artists.
"Being able to see first-hand how the 'digital dollar' is exchanged through all the involved parties was eye-opening."- Joost Rohde
After setting up his own studio three years ago, Joost and Jonathan teamed up as business partners because they realized they had quite a few things in common. Both wanted to assist independent musicians and saw a gap in the market when it came to accessing the necessary information and technology needed by independents to build a successful music career. "With the knowledge I incurred while studying concerning copyrights and how the industry is working, together with Joost's background and music experience, we came up with a concept to provide the technical capabilities musicians need nowadays that are not being provided by the music industry," says Jonathan. Both agreed that the way the music industry currently functions is not transparent or fair, but the tools to help musicians are there. "That's really where we saw the user case for a one-stop-shop that put artists first."
A one-stop-shop
SmartLabel aims to educate musicians on what steps to take once their music has been created. Offering services and tools linked to master rights, copyrights, how to earn royalties, how to make NFTs, and overall music distribution, the platform supports all musicians, no matter what point in their career.
Built on Jonathan's and Joost's combined knowledge concerning the industry's business side and the technical innovations available today, SmartLabel helps artists manage the business affairs of their music careers - without being overwhelming. "We wanted to make an easy and accessible tool that could be widely used by all," says Joost.
Invest in artists, own music rights
Flipping the norm, SmartLabel gives the power back to the musician by letting them be the sole owner of their musical creations if they choose so. A rather revolutionary concept, the various services and tools developed to help musicians will exist on the single platform, in one place. "We offer multiple options to musicians on how to build and manage your career," says Jonathan. "For example, via SmartLabel, you can distribute your music to all the streaming platforms and blockchains. You can manage all your paperwork via SmartLabel, where we will give you all the insights needed to support your music career in a clear, concise artist-centric approach."
SmartLabel offers additional information and insights on newer technologies within the music industry, such as blockchain and NFTs. Offering a dedicated 'NFT Promotion' service, SmartLabel helps artists learn about NFTs, how to create their own, when and how to release them, and advice on how to use NFTs to generate new income streams. A unique service, the creation and trading of NFTs, can be used as a form of music promotion and royalty creation. For example, when an artist creates a new album, they can choose to sell part of the album or individual track's rights by minting 100 master tokens and 100 publishing tokens, representing a percentage of the master- & publishing rights, in short the royalties. The artist can sell these tokens to their most loyal fans and use the capital gained as an advance on their future income. The income generated from the NFTs can be used as an investment in furthering their careers.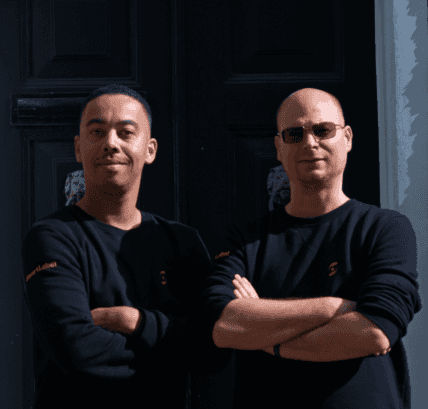 "We think this is one of the biggest unique selling points we offer at SmartLabel that supports independent musicians," says Joost. Musicians can even include a clause in each NFT that the creator receives X percentage of the total amount every time the token trades hands. This ensures they continue to benefit from their own work into the future.
On the other hand, fans who purchase NFTs from the artist also become part of the artist's community and can support them throughout their career. A digital representation of how and when the fan first began supporting their favourite artists, NFT holders can also profit from their tokens in the future if they increase in value.
Owning an original digital asset from a musician gives the fan certain bragging rights and the potential to trade it for much more than they originally paid for in the future. Musicians can also include extra features, such as backstage passes, access to unreleased music or signed records with each NFT.
Think of it as a Metallica t-shirt purchased by a fan at one of the first Metallica concerts before they broke through.Jonathan Oudekerk
Platform that takes care of artists first
An exciting new revenue stream, Jonathan and Joost stress that the NFTs service is not just part of the broader craze sweeping the music industry. "We are not riding the NFT hype that's occurring right now. When it comes down to it, we are building SmartLabel because we want to empower independent musicians. We want to give artists the tools they need to disrupt the music industry positively." By offering expert advice, musicians can make the right decisions for themselves and further their careers without relying on several external parties. "We aim to avoid situations you may see in the current music industry, where record labels convince artists to sign away the majority of the master rights to a record or song, and the artist is left unaware of the future implications this could have on their career," says Joost. "We want SmartLabel to be a platform that takes care of artists first, not just the economic benefits of their career."
For example, through SmartLabel, musicians can create contracts that allow other parties to use certain parts of their songs. Also known as synchronisation deals, this type of legal contracts can be drawn up on the platform by the musician and gives someone else the option to buy the rights to use this song. "SmartLabel is artist beneficial, not industry professional beneficial. Many musicians lack the knowledge to fully comprehend the long-term implications of many contracts they must sign with record labels or producers and are unhappy with the consequences in hindsight. We want to change that," explains Jonathan.
A safe haven for music creators
SmartLabel is aiming to expand its services to include community building as a safe haven for music creators. The co-founders want to develop the platform into a thriving environment where musicians and artists can build up their community with fans worldwide. "Musicians can even sell the master rights to certain songs to fans if they like," notes Joost. From forming direct connections with fans to selling their merchandise or even investing in and splitting profits from the musicians' work, the sky's the limit when it comes to the community Jonathan and Joost want to launch on SmartLabel. "Usually, musicians are not able to have clear insights on what their fans are thinking or want as they are separated across different countries, social media channels and platforms. We want to enable deeper, more meaningful connections with fan bases while offering musicians more insights into their fan bases.
Currently under further development, Jonathan and Joost envision the platform as an open-sourced tool that allows musicians to decide who owns what part of the creation, how much, when and how. "We are building the tools for this without taking any cut in it."
By Jonathan Oudekerk & Joost Rohde